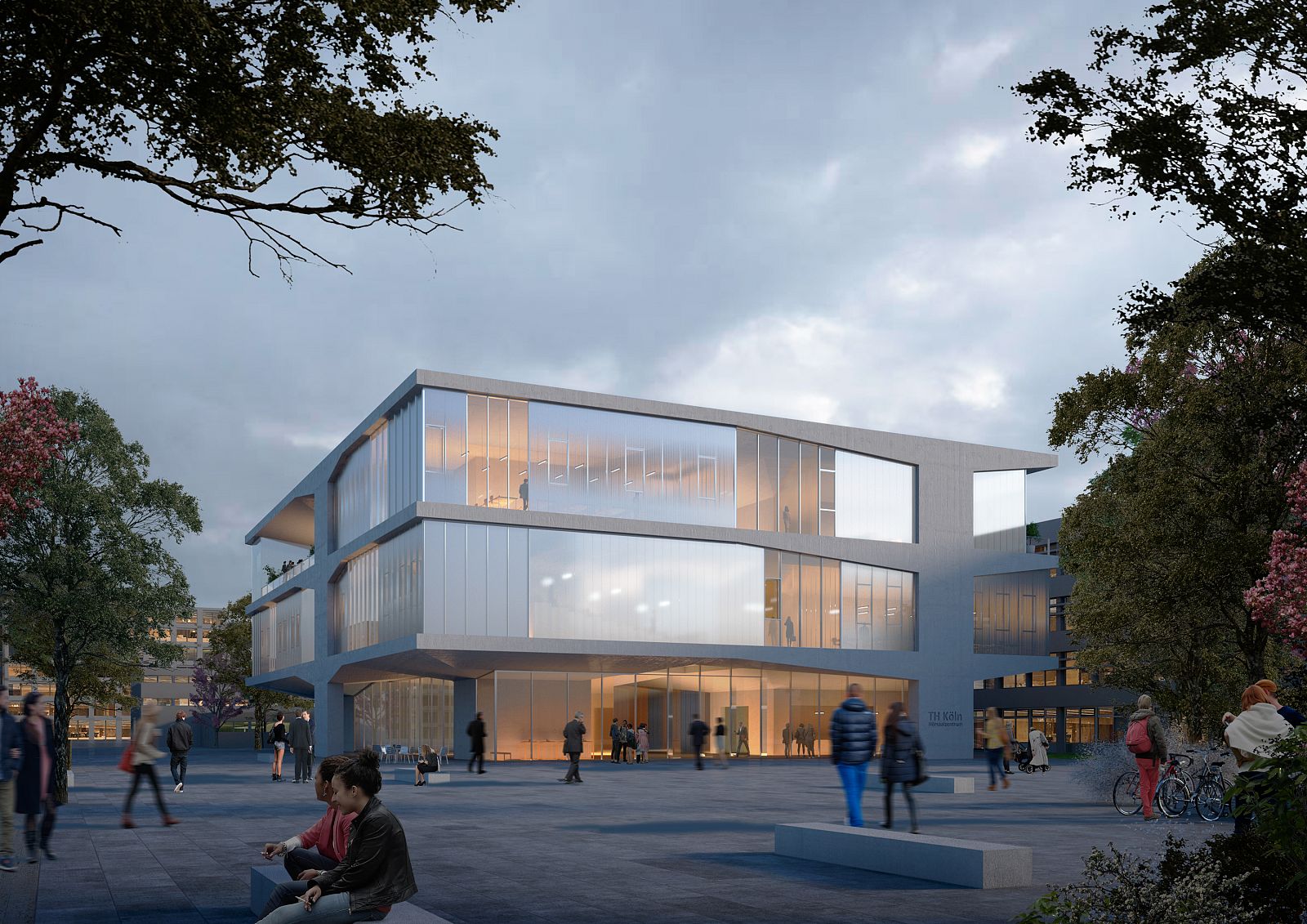 Due to its location at the entrance to the campus of the University of Applied Sciences TH Köln Deutz and its interdisciplinary offer, the auditorium building is of particular importance.
We chose an integrative design approach that represents the interaction of the design and technical disciplines at the university. The three-story solitaire is glazed on all sides and characterized by its load-bearing structure made of mushroom shaped pillars of varying sizes which give the interior spaces and facades an expressive appearance that radiates far into the campus.
A weather-protected area in front of the recessed ground floor welcomes the students from the various directions on campus, guides them into the open foyer, which is defined by the sculptural pillars and ceilings, and from there to the two central staircases. The wide-span supporting structure provides a robust framework in which lecture halls and seminar rooms can be installed as required. All stairs, elevators and building services are integrated into the mushroom pillars and ceilings, creating great freedom for the allocation and use of the open areas. Airspaces on all floors and roof terraces extend the building's range of offers and give students various meeting points for learning and relaxation.
The combination of a space-defining, load-bearing structure and flowing space creates a building that provides a maximum of flexibility and yet finds a clear architectural expression for the entrance building of the university.
| | |
| --- | --- |
| Competition | 1st Prize, 2018 |
| Client | Bau-und Liegenschaftsbetrieb NRW, Niederlassung Köln |
| Planning started | 2020 |
| Completion | 2029 |
| Total floor area | 8,500 sqm |
Competition
Project Management: Petra Wäldle
Team: Mathis Grahl, David Czepek, Bastian Gerner
Planning and Realization
Project Coordination: John Barnbrook
Project Management: Lars Hinrichs
Deputy Project Management: Annette Leber
Team: Christoph Rokitta, Ria Roberg, Sabine Zoske, Lucía Martínez Estefanía, Firat-Delil Ertegi, Frank Trautmann, Lara Metell, Heike Suhren-Streckwall, Christoph Conrad, Maximilian Schädlich, Alice Boetker, Dörte Pritzl, Lukas Monath, Leonie Otten