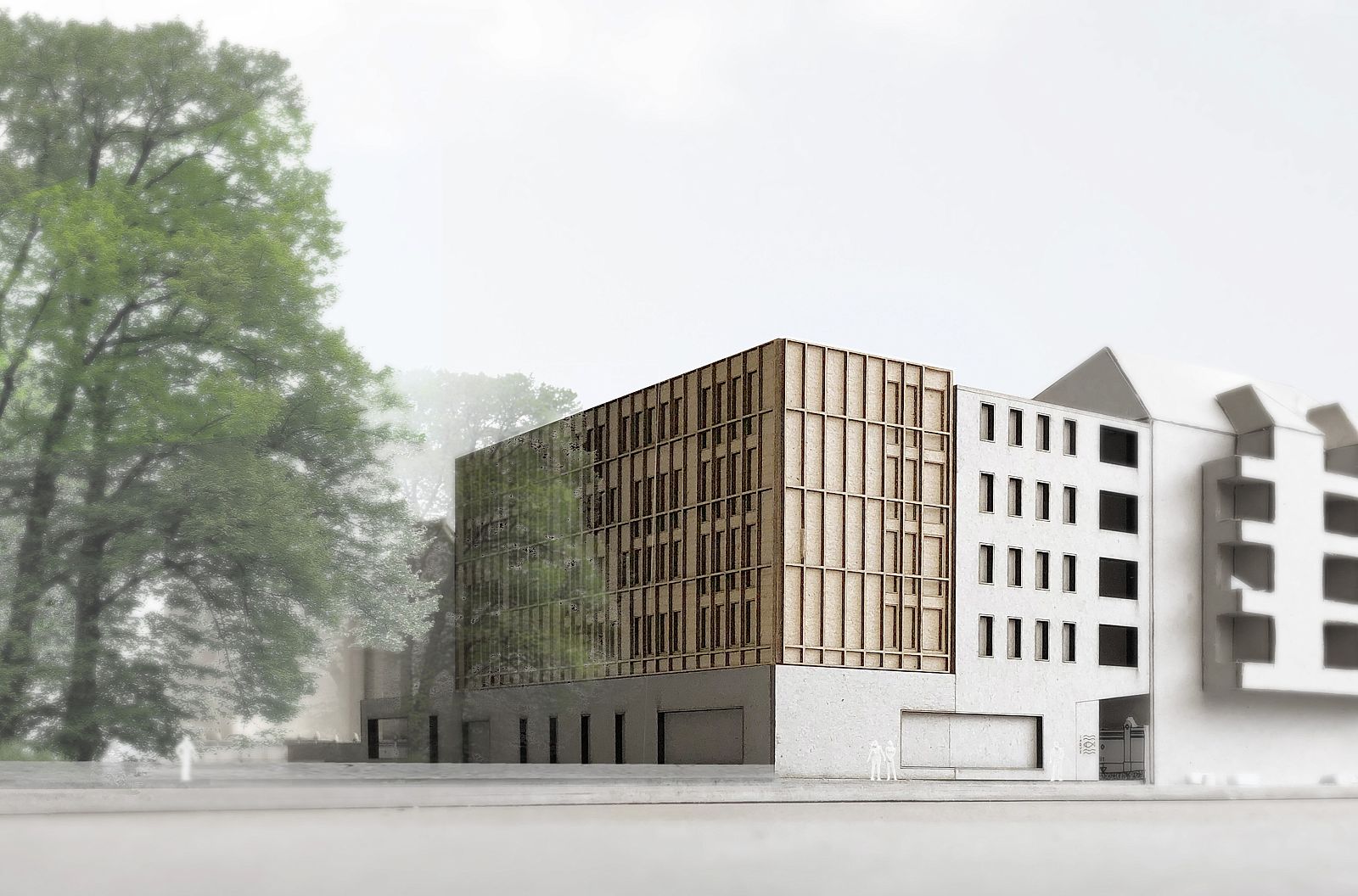 Situated on the periphery of the expansive Alter St. Jacobi cemetery, in close proximity to Herrmannplatz, the Evangelische Schule Neukölln is embarking on the construction of a novel edifice designated for its upper school. The chosen construction site, previously a service yard for the cemetery, abuts Wilhelminian-style structures. These neighboring edifices feature lateral wings defined by firewalls and open courtyards, stretching along the southern fringes of the property.
The design process, conducted through an interactive workshop, aimed to conceive a sustainable school building that harmonizes with the surroundings. It was imperative to respect the status of the cemetery wall as a heritage-listed feature, while seamlessly integrating within the precinct of the listed garden monument and the neighboring urban residential landscape.
Our proposal entails a bifurcated architectural composition. A solid stone volume is positioned to seamlessly extend the prevailing street layout and the lateral wings. This component culminates in a plinth that interfaces with the cemetery. Notably, the plinth houses communal spaces such as a café and an assembly hall, strategically positioned on the ground level. Herein, one finds all entry points and auxiliary chambers. Superimposed on this plinth is a wooden framework, spanning generously to accommodate all classroom spaces. This section, characterized by a serene façade, abuts the southern expanse of the cemetery, accentuating the unique function of the edifice. The educational areas are oriented towards the north, facing the verdant expanse. These spaces offer adaptability, with the potential for subdivision into rooms and open learning zones according to requirements.
Access to the school is conveniently facilitated through a drive-through along Hermannstrasse, lined with an extensive bench that meanders along the cemetery wall, extending into the heart of the site.
| | |
| --- | --- |
| Competitive workshop procedure | 1st Prize, 2023 |
Competitive workshop procedure
Team: Franziska Ebeler, Patric Eckstein, Jacob Steinfelder, Sonja Hehemann