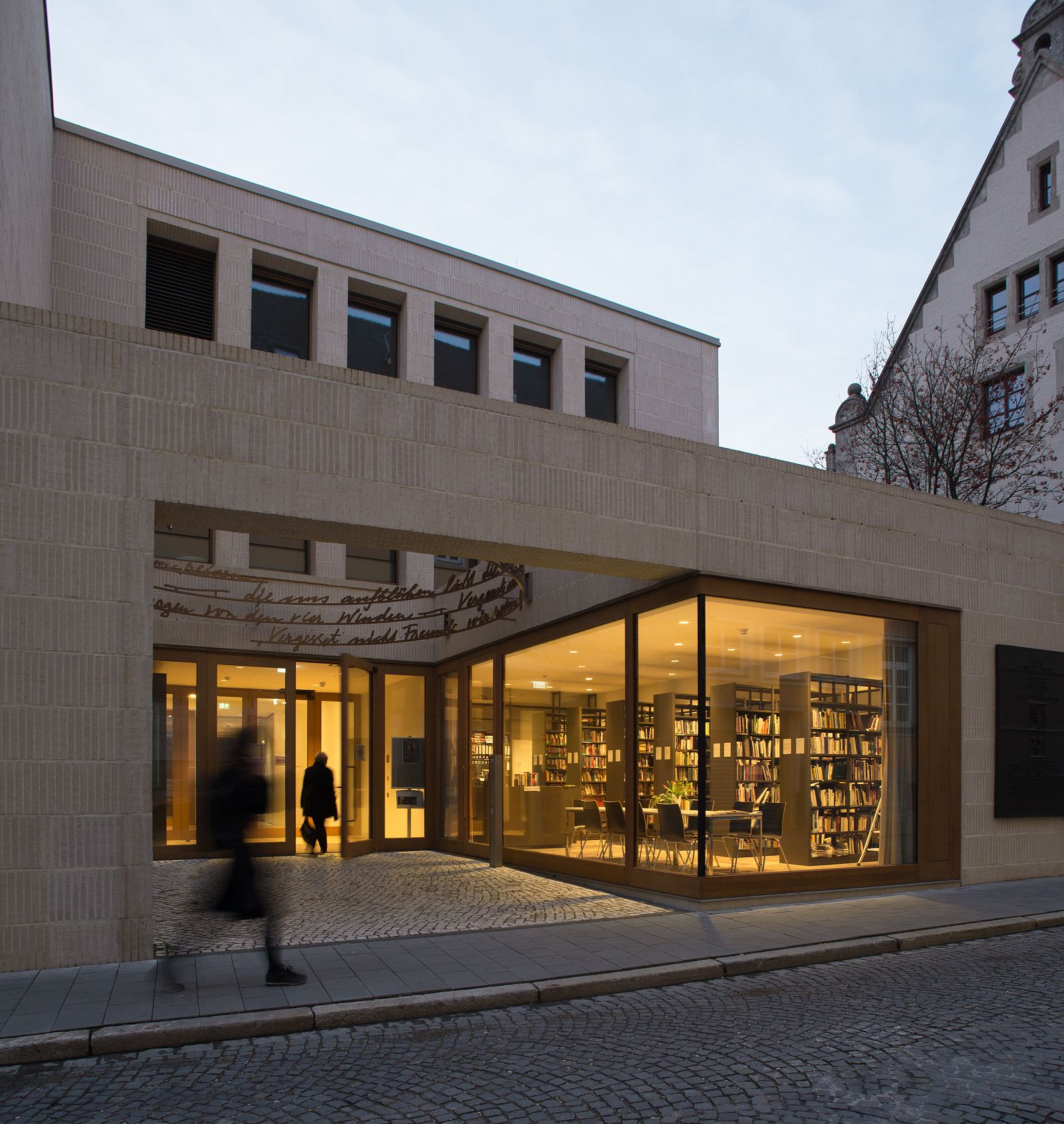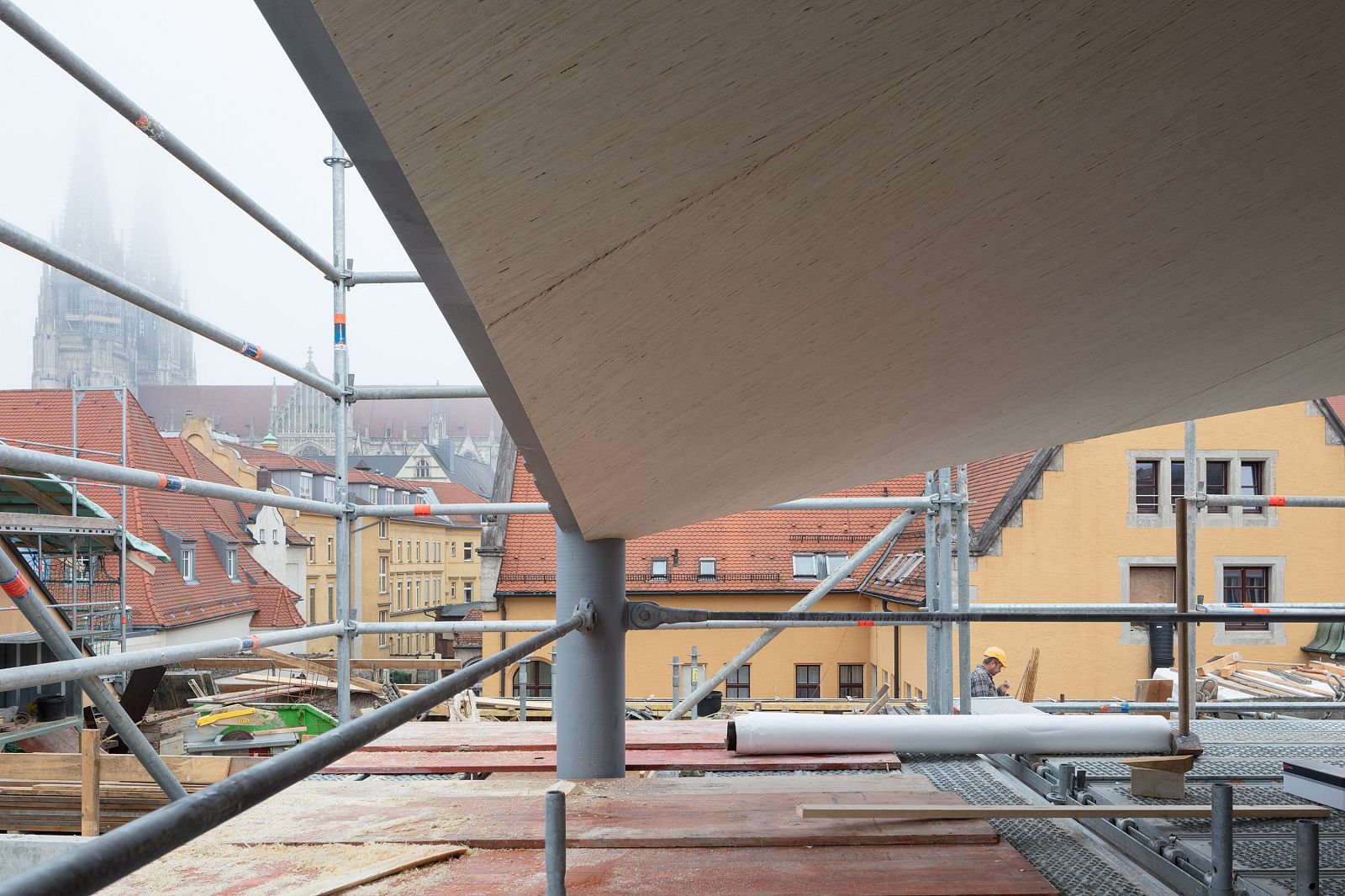 In place of the synagogue destroyed in 1938, the Jewish community erected a new community center and synagogue in Regensburg's old town, restoring the historic "sacred triangle" of the Catholic cathedral, Protestant Neupfarrkirche, and synagogue.
To give the ensemble a clear address, the synagogue and the new community center were combined and connected to the old building of the community center. The staggering volume ties in with the low eaves and gabled houses of the old town. Its whitewashed brick walls are color-coordinated with the plaster facade of the old building and open to the surroundings with large windows. A small forecourt invites visitors into the public library. In this way, the new building resolves two seeming contradictions: to blend into the old town, which was designated a UNESCO World Heritage Site in 2006, with a contemporary architectural language, and to radiate openness yet at the same time to be a secured house for Jewish community life.
The particular emphasis lay on the synagogue's design on the southeast corner of the new building. The well-proportioned space received an east-facing wooden shell. Its slats transmit daylight into the interior in a subdued manner, giving the vaulted synagogue space a highly meditative quality in its simplicity.
​Building Client Award for Historic Towns 2022 - Recognition
German Civil Engineering Award 2020 – Award
Geplant + Ausgeführt (Planned + Built) 2020 – Award
State Prize European City - 3rd prize 2020
​Otto-Borst-Prize for Urban Renewal 2020
Architecture Prize Regensburg 2019
| | |
| --- | --- |
| Competition | 1st Prize, 2015 |
| Client | Jüdische Gemeinde Regensburg |
| Planning started | 2015 |
| Completion | 2019 |
| Total floor area | 2,400 sqm |
Competition
Project Management: Petra Wäldle
Team: Jacob Steinfelder, Sönke Reteike, Paulin Sensmeier
Planning and Realization
Project Coordination: Per Pedersen
Project Management: Florian Nusser
Team: Jacob Steinfelder, Dirk Wischnewski, Claudia Trott, Dirk Brändlin, Sabine Zoske, Alexander Braunsdorf, Daniel Unterberg, Roger van Well, Manuela Jochheim
Local Construction Management: ERNST² Architekten, Stuttgart
Landscape architecture: Levin Monsigny Landschaftsarchitekten, Berlin
Structural engineering of the dome: Dr. Gollwitzer + Dr. Linse Ingenieure, München
Lighting design: Licht Kunst Licht, Bonn
Art in architecture: Tom Kristen »Gemeinsam« (Poem: Rose Ausländer)
Photography
Marcus Ebener, Zuzanna Kałużna