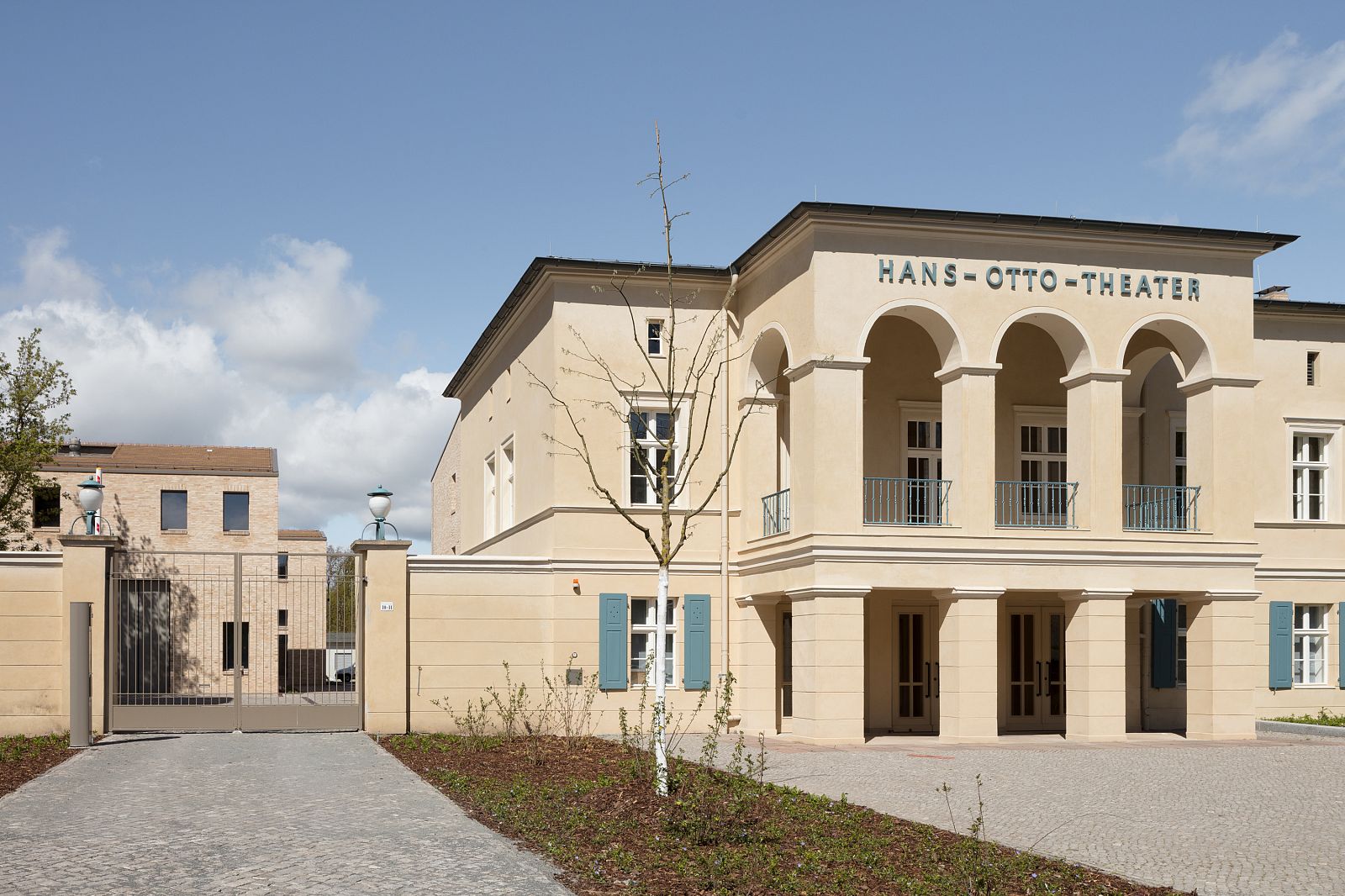 The foundation 'Preußische Schlösser und Gärten' is consolidating its collections and workshops on the site of the former 'Hans-Otto-Theater' on the edge of the UNESCO world cultural heritage 'Park Sanssouci'. Integrating the large building volume in its context, respecting the protected views and the historic building, posed a significant challenge.
Referencing historic horticultural structures the motif of a greenhouse was transformed into a distinct shape. The displacement of the individual volumes, which are parallel to the historic building, creates diverse in-between spaces that merge with the northern garden. Staggered heights and gabled roofs mediate between the park and the existing buildings.
A greenhouse façade was used on the north side, bringing natural light to the workshops, whereas the southern façade has typical window openings for office spaces. The historic building plays a significant role in its context and is opened to the neighborhood as the entrance to the research center and as a canteen.
BDA-Preis Brandenburg 2020
Deutscher Ziegelpreis 2019 – Honorable Mention
Deutscher Architekturpreis 2019 – Award
Brandenburgischer Baukulturpreis 2017 – Special prize
| | |
| --- | --- |
| Negotiation procedure | Top Rank, 2009 |
| Client | Stiftung Preußische Schlösser und Gärten Berlin-Brandenburg |
| Planning started | 2009 |
| Completion | 2017 |
| Total floor area | 10,000 sqm |
Planning and Realization
Project Coordination: Birgit Decker
Project Management: Birgit Hübner
Team: Marion Rehn, Florian Nusser, Henriette Siegert, Sonja Hehemann, Antje Bittorf, Eriona Zeneli-Schott, Sabine Zoske, Johan Jensen, Manuela Jochheim, Dirk Brändlin, Nicole Lochocki, Daniel Unterberg, Claudia Trott, Thomas Müller, Sophie Hartmann, Nina Gromoll, Züleyha Timur, Sylvio Heuer, Carolin Kuhn, Moritz Buchholz
Construction Management Coordination: Dirk Richter
Senior Construction Management: Lutz Bahle
Photography
Marcus Ebener