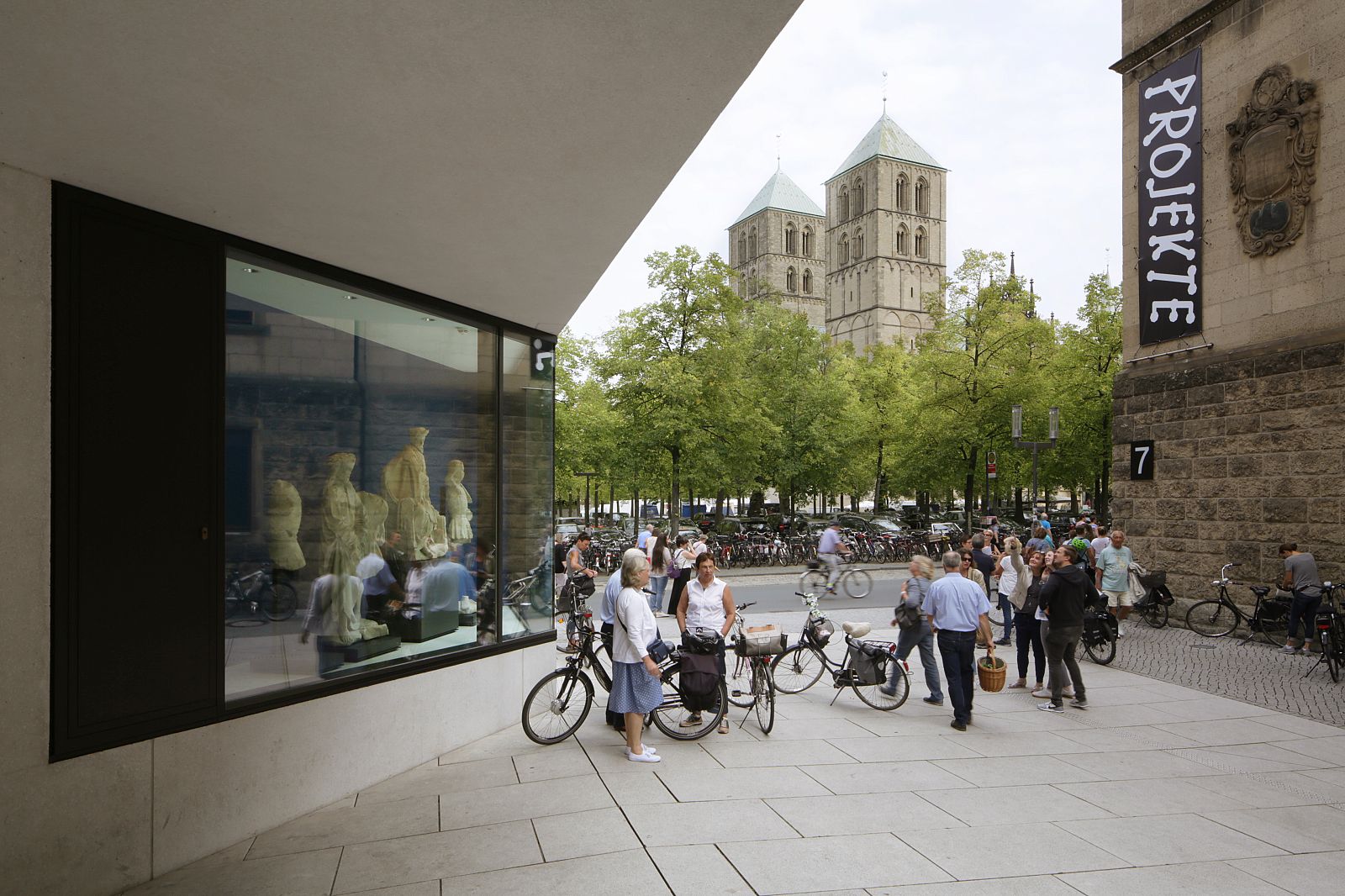 The new museum building was erected in place of the previous building dating from the 1960s and 1970s between Domplatz (Cathedral Square) and the Rothenburg shopping street and is connected to the old Neo-Renaissance building of the museum. The design concept is centrally concerned with opening the museum to the city and clearly integrating it with the existing building. A sequence of four public spaces represents a continuation of the old building's courtyard structure. The spaces vary in character from forecourt, entrance courtyard, patio, and covered foyer, thus blurring the boundaries between the city and the museum.
In line with the urban planning objectives, the public amenities are arranged on the ground floor and can be accessed without buying a ticket, while the exhibition rooms are located on the upper floors. The historical building has been integrated into the exhibition circuit at the same level. The combination of differently proportioned spaces creates varied spatial sequences, which are punctuated by intentionally chosen views of the city and the courtyards. Two-story exhibition rooms displaying the collection's key works can be viewed from two levels and link the chronologically ordered collection across the stories.
The town-facing facades are made of local sandstone that is typical for the area, while the courtyards and recesses are finished in light-colored plaster that marks the museum's terrain. The interiors use only a few materials and thus give precedence to the exhibits.
German Urban Planning Prize 2018 – Award
Award for Exemplary Buildings in Nordrhein-Westfalen 2015
Best Buildings Award from BDA Münster-Münsterland 2014
| | |
| --- | --- |
| Competition | 1st Prize, 2005 |
| Client | Landschaftsverband Westfalen-Lippe, Bau- und Liegenschaftsbetrieb |
| Planning started | 2007 |
| Completion | 2014 |
| Total floor area | 18,000 sqm |
Competition
Team: Patric Eckstein, Petra Wäldle, Johannes Löbbert, Justus Ettemeyer, Johan Kramer
Planning and Realization
Project Coordination: Birgit Decker
Project Management: Johannes Pape
Team: Petra Wäldle, Tanja Klein, Birgit Hübner, Daniel Verhülsdonk, Florian Nusser, Alexander Böhme, Daniel Pleikies, Tobias Steib, Claus Thiemann, Sabine Zoske, Fabian Weber, Johan Jensen, Manuela Jochheim
Construction Management Coordination: Dirk Richter
Local Construction Management: Pfeiffer Ellermann Preckel, Münster
Photography
Marcus Ebener, Zuzanna Kałużna